Welcome to the ArcGIS Living Atlas of the World
Every day we take in visual cues and make observations of the world around us. In many cases, we take the things we see to be self-evident, that they simply are as we perceive them to be. Other times, we more closely analyze and interrogate things that appear less familiar. Sometimes, just changing our visual perspective can offer additional illumination and enlightenment.
Taking a step closer to understanding our Earth, through a wide range of visual and analytical perspectives, Esri is releasing Sentinel-2 Image Services to all Esri users. Those responsible for crop management, understanding land cover change, energy exploration, natural disaster planning and mitigation, and many more, now have a powerful new ally.
Sentinel-2 is now part of the ArcGIS Living Atlas of the World. The ArcGIS Living Atlas of the World is the foremost collection of geographic information from around the globe. Esri's beta Sentinel-2 image service, powered by ArcGIS Image Server, includes daily updates, all Sentinel-2 imagery going back 14-months, and includes 13 bands of information. Image analysis can be applied to create image indices that show properties such as vegetation health or soil moisture as well as quantifying changes over time.
Some intriguing examples and use cases
Sentinel-2 derived crop health and water content to monitor and manage our world's agriculture.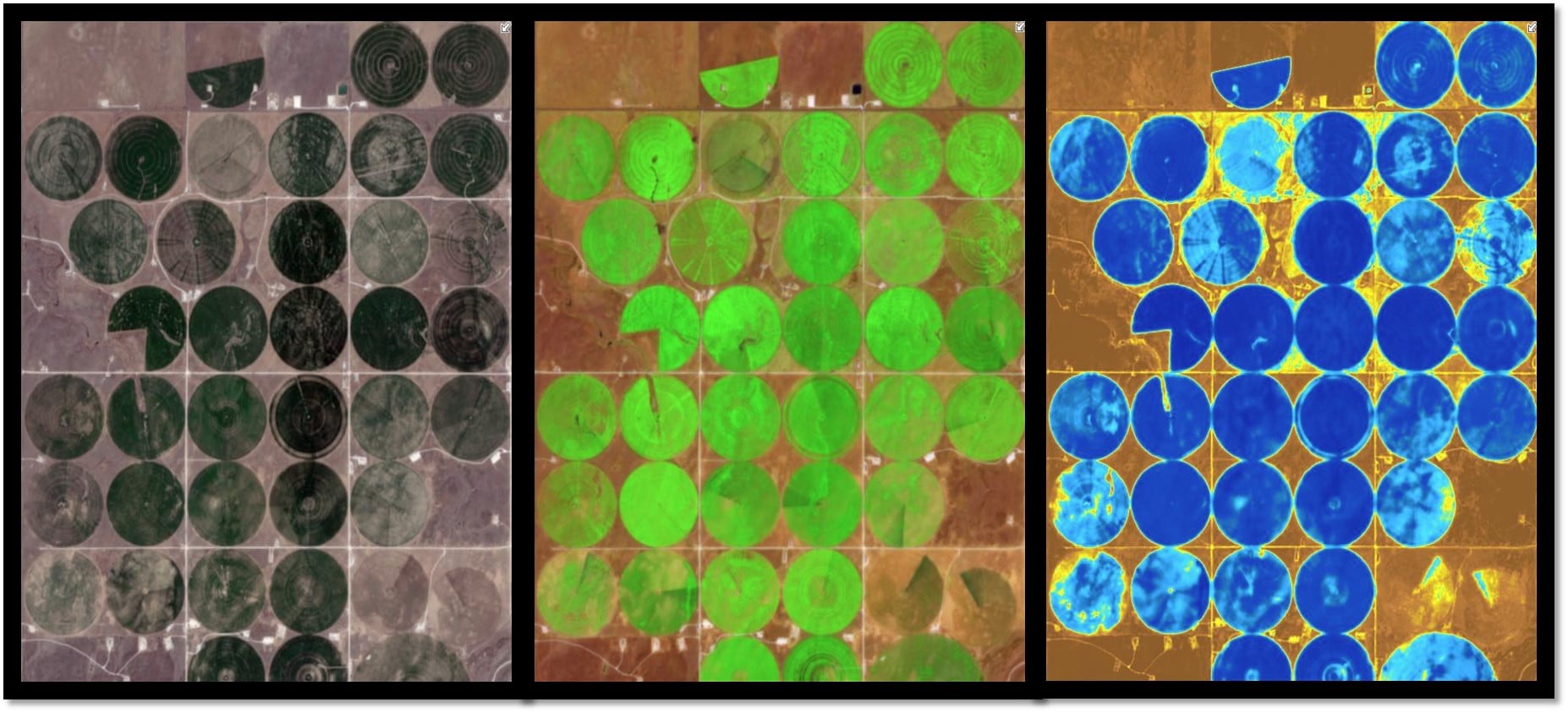 This example shows agricultural fields in various Sentinel-2 band combinations: Natural Color (left) displays the optical wavelengths our eyes naturally detect, Short Wave Infrared Vegetation (Middle) showing the most vigorous vegetation in bright green, and a Water Moisture Index (Right) with the highest moisture levels shown in blue.
Heat signatures used to identify burning oil and natural gas wells and manage carbon emissions.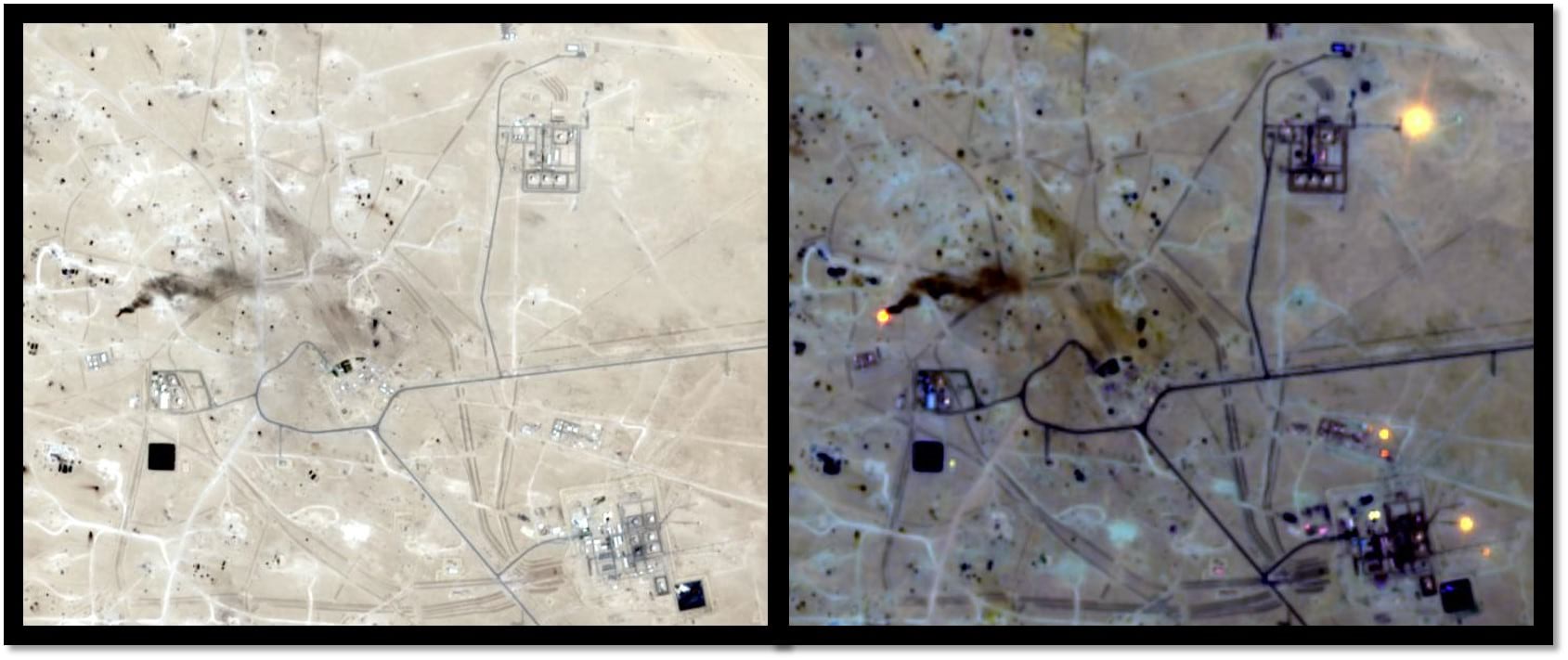 This example shows oil/natural gas wells in the Middle East: Natural Color (left) showing the optical wavelengths our eyes naturally detect and Short-Wave Infrared (right) which allows you to quickly detect several burning wells that are not readily detectable in the Natural Color image.
Heat signatures, and visibility through smoke, used to help manage wildfires.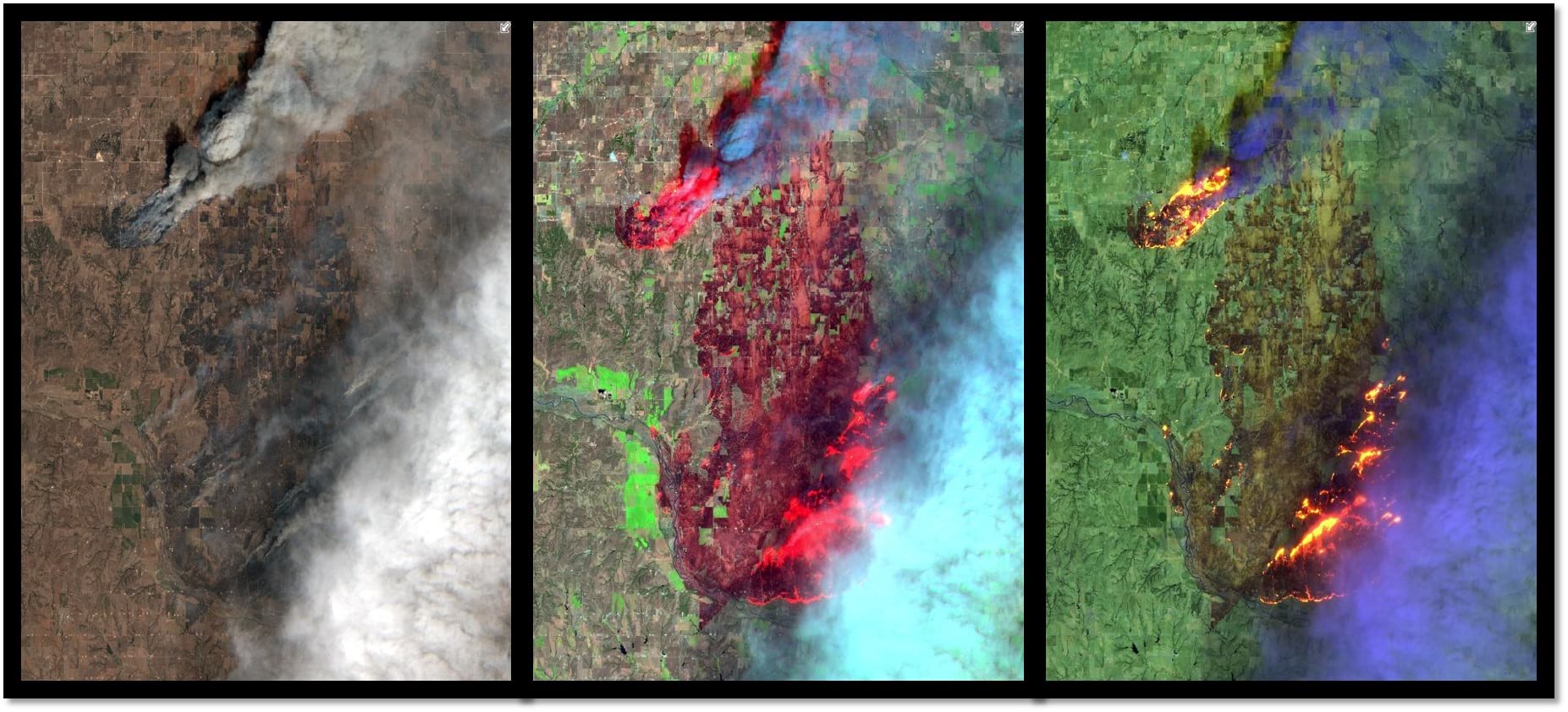 This example shows a recent Oklahoma wildfire in various Sentinel-2 band combinations: Natural Color (left) showing the optical wavelengths our eyes naturally detect, Short-Wave Infrared with Near Infrared wavelengths showing actual fire hotspots and highlighting burned areas, and a wider range of Short-Wave Infrared wavelengths (right) showing more refined hotspot detection.
Sentinel-2 can help us see all of this, and much more! Come and explore this fantastic resource with Esri and unlock more of Earth's secrets. In the Living Atlas you will find the Sentinel-2 Views for full visualization and analysis, as well as a sample app providing a subset of these services in the Sentinel Explorer App. Also, check out additional ready to use layers in the ArcGIS Sentinel Imagery group.
If you would like to know more about Sentinel-2 and Esri's image service, additional information and links are provided below.
More about Sentinel-2
Sentinel-2 is part of Copernicus, the world's largest single Earth observation program directed by the European Commission (EC) in partnership with the European Space Agency (ESA). It provides multi-spectral data spanning 13 bands in the visible, near infrared, and short-wave infrared, with spatial resolution ranging from 10 meters to 60 meters. Sentinel-2 is continually collecting imagery from two Earth observation satellites that provide imagery for any land-based location in the world every 5-7 days.
Extending Esri's Sentinel-2 image service
For users wishing to do more extensive predictive analysis, generate persisted products or access the entire archive, ArcGIS Image Server with the raster analysis capabilities can be set up on scalable Amazon Web Service (AWS) cloud infrastructure to apply a wide range of predefined or custom analysis against Sentinel 2 and a wide range of other sources. The Esri beta Sentinel-2 image service sources imagery from the Registry of Open Data on AWSand uses AWS server infrastructure in the Frankfurt region.
Current events and additional use cases
Using Esri's Sentinel-2 image service can provide better visualization and understanding of catastrophic events such as Hawaii's Kilauea volcano. The ability to use imagery of the volcano along with other spatial data, such as digital elevation models (DEM), provides an unprecedented opportunity to help predict lava flow direction and provide advanced notice to those who may be in danger.
Sentinel-2 service can also help provide understanding of the conditions that lead to fires such as this past winter's Thomas Fire, which is California's largest wildfire on record. The Thomas Fire burned over 280,000 acres and triggered massive mudslides. Visualizing factors, such as periods of increased moisture contributing to more lush vegetation followed by hot and dry weather, can help predict future wildfires and mitigate their effects in the future.
Source article: https://www.esri.com/arcgis-blog/products/arcgis-living-atlas/imagery/sentinel-2-more-than-meets-the-eye/
Wat zijn de voordelen van een webinar?
U verlies geen tijd, u volgt immers de webinar van achter u computer.
Geen reiskosten en verblijfkosten.
Deelname is gratis, je hebt enkel een computer en een internet connectie nodig.